Mobile Coupon Platform
Maximize engagement, experience, and loyalty with personalized mobile offers.
Accessible though a web-based portal, our mobile coupon platform offers the tools you need to create personalized offers for deployment across multiple mobile channels, and track redemptions for collecting important transactional data.
The Power of Mobile Coupons
Boost Engagement, Achieve Higher Redemption Rates and Get to Know Your Consumers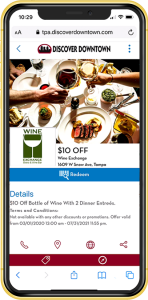 Discover the Magic of Our Mobile Coupon Platform
Ready to discover what our mobile coupon platform can do for you? Schedule a demo with our knowledgeable, friendly experts to discover how this revolutionary marketing tool can grow your business.