Mobile Coupon Platform for Busy Marketers
With the Mobilozophy mobile coupon platform, creating and redeeming mobile coupons is easier than ever. Even with no programming experience, you and your staff can easily publish coupons via a number of channels. Share them via SMS or text, location-based notification, or a mobile site or app.
The Power of Mobile Coupons
Who has time to clip coupons anymore? It's no wonder so many businesses are moving to mobile coupons: they're easy for customers on-the-go to find and redeem. Mobile coupons are immediate and engaging. They drive sales, spark customer loyalty, and increase engagement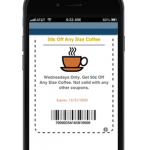 Discover the Magic of Our Mobile Coupon Platform
Ready to discover what our mobile coupon platform can do for you? Schedule a demo with our knowledgeable, friendly experts to discover how this revolutionary marketing tool can grow your business.