Leverage Contactless Coupons
During this pandemic and after, contactless coupons are going to grow in popularity since a majority of the public has concerns over physical surfaces. Now is the perfect opportunity for businesses to have an alternative to print coupons.
The Power of Contactless Coupons
With many businesses banning paper coupons, it's no wonder many are moving to contactless offers to minimize physical contact and the spread of COVID-19. Contactless offers are immediate and engaging, which drive customer loyalty.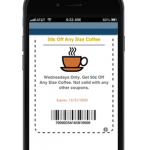 Discover the Magic of Our Mobile Coupon Platform
Ready to discover what our mobile coupon platform can do for you? Schedule a demo with our knowledgeable, friendly experts to discover how this revolutionary marketing tool can grow your business.