Loyalty programs have been around for decades, and the advantages are well known. Remember S&H Green Stamps? Once the largest loyalty program in history. Whether your business uses offline stamps or onhole punches, it's nearly impossible to evaluate whether or not your loyalty program is adding to bottom line profits.
Most of the time small businesses just assume that if punch cards are given to customers, they'll naturally generate more sales. But with so many inefficiencies, the payoff isn't exactly there. Digital punch card programs get rid of all these hassles and enable businesses to get smarter about loyalty programs and the value it brings to you and your customers.
A 5% increase in customer loyalty would increase the average profit per customer by 25-100%. –TheLoyaltyEffect
How Digital Punch Card Programs Work:
As you may expect digital punch card programs track and reward your customers for repeat purchases and visits, but in a more efficient way. Your customers don't want to track another loyalty card; and if a customer's card is lost or stolen, it means they'll have to start all over again. Frustrating, right? Instead, allow them to simply use their phone number and earn punches/rewards. In addition to streamlining your program, you can:
Track ROI: Reporting helps you determine the ROI of your program. You'll be able to see which messages bring customers back and which ones may need more refining to be effective.
Easily re-engage and retain customers: Rather than simply rewarding customers who come in often, digital punch card programs are able to recognize un-loyal customers and send incentives and reminders to bring them back. You wouldn't be able to do that with a traditional punch card.
Retrieve Valuable Customer Data: When you give out a paper punch card, you're not getting any information in return. That translates into missed marketing opportunities. With your digital punch card program you can collect information like: email addresses (for periodic events), birthdays (for a once a year birthday offers) and phone number (as a unique identifier).
Fraud Protection: We've heard horror stories of staff stamping lots of paper stamp cards and then giving them to friends to redeem free rewards. With digital punch cards, every stamp or point is digitally tracked and monitored.
The Benefits of Incorporating Mobile
73% of smartphone/tablet users prefer to use their mobile device to interact with loyalty and reward programs.- US Loyalty Report by Maritz. Consumers are tethered to their mobile devices and mobile loyalty apps help drive engagement and increased sales opportunities.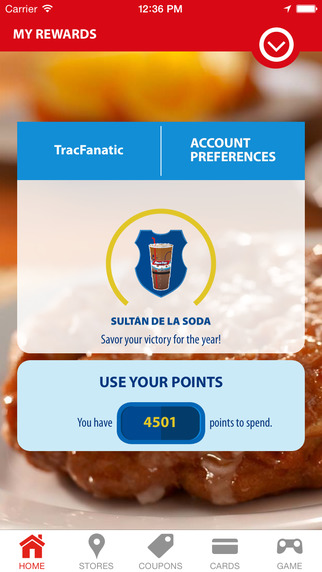 In April of 2016 RaceTrac created a loyalty app. The app rewards users with free stuff just for signing up and other in-app coupons and rewards that can be earned throughout the year.
To make the their loyalty program about more than just free stuff, they've made it fun by adding loyalty rank with a different levels of RaceTrac "royalty". From Duke of Hot Dog to the Sultan of Soda, every rank features exclusive rewards along the way. The more points earned, the greater the rewards.
The most obvious reason why merchants offer mobile loyalty programs is to give customers incentives to return to their businesses. But there are a number of other perks, too:
Differentiation from the competition: Loyalty programs are an excellent way to stand out from the crowd. And having a mobile loyalty program gives you an even bigger edge in the marketplace. Consider what your competitors are doing for their loyalty programs and figure out a way to make yours even better.
Real-time Messaging: Perfectly timed messages, such as push notifications, will keep your customers engaged. Use SMS messaging to notify loyal customers of new rewards that are available inside their mobile account. Take it one step further by using Beacon technology to push out automatic messages to your customers when they're inside or even walking by. This close proximity geo-fenced messaging provides a new and unique way to interact with your customers.
Integrate Social Media: By integrating social media into your mobile rewards program, you can gain additional exposure. Customers can post check-ins and purchases to their social media accounts and help spread the word about your business.
Added Convenience: Providing perks like skip the line combined with mobile payment options add convenience to the overall shopping experience and encourage customers to come back more frequently.
Improved customer service: Open up the lines of communication and encourage customers to leave feedback through the app or on sites like Yelp and Facebook. Customers want to feel as if their opinion matters and they want to feel valued and appreciated. Howard Schultz, Starbucks' CEO, said, "If people believe they share values with a company, they will stay loyal to the brand."
Segmentation: Segment customers based on purchase values, frequency of purchases, SKUs and tailor marketing communication based on real-time consumer preferences.
Automatic Engagement: Acknowledge your customer's birthday by sending out an SMS message with a birthday offer.
Time Sensitive Offers: Give customers additional points based on referrals, product use, time of day, etc.
Store Locations: With the GPS location option enabled, you can list the closest store and offered amenities. RaceTrac includes each store's gas prices and the availability of free Wi-Fi.
Payment Options: Load gift cards other methods of payment onto your app to enable mobile payment capabilities for customers.
And What About Redemption Options?
Customers can simply open up the app and redeem their offers in a couple of different ways: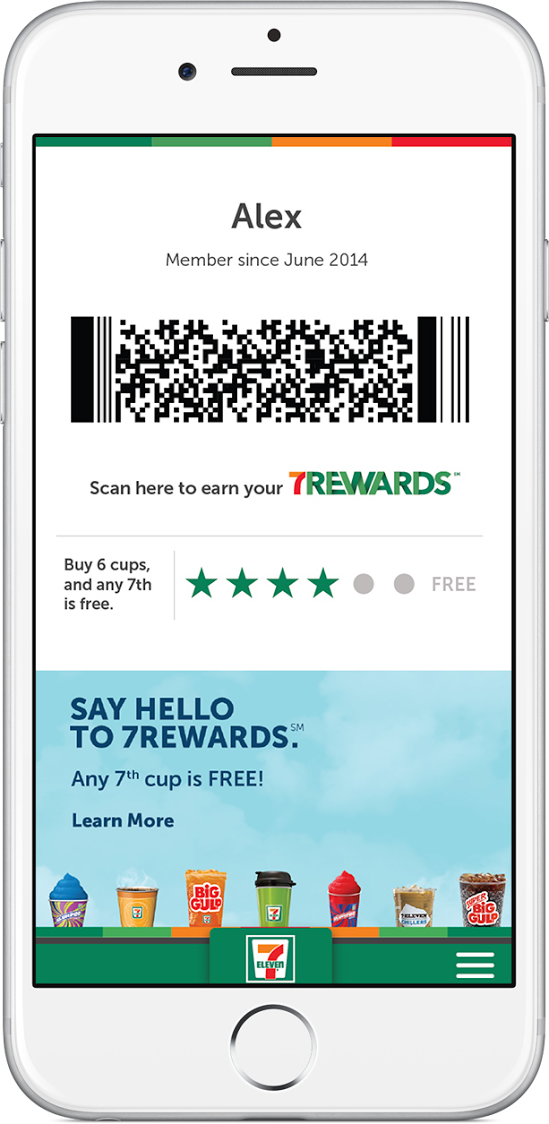 Beacons: The customer places their phone in close proximity to the beacon to receive a "stamp" or credit for their purchase. This option is convenient for businesses who have high volume/lower value transactions that don't always require the assistance of staff.
Bar Codes: With the 7-11 App, every time a customer purchases a cup, the cashier will scan the barcode in the app, and a "punch" will automatically appear within the app. Each purchase earns a punch that shows up as a star icon in the app. After receiving six punches, or stars, a "You earned a free cup" notification appears in the app. The punchcard process starts over once the free beverage is redeemed.Links to Facebook and Twitter on the app's home screen let the user tell their friends about their rewards.
Getting it Right
The number one concern for small and medium businesses (SMBs) is retaining loyal customers. Getting it right is a win-win for everyone and will help create long-term benefits and to establish stronger relationships with your customers.