QR codes seemed to be everywhere in the dawn of the smartphone era a few years ago. You might think that these are dated technology, but they are still being used by many companies, large and small, in exciting new ways. These codes benefit businesses in many ways and are most effective in combination with other applications. QR codes can do more than just send a message to a phone, they can also direct a customer to a website, connect with other services, or promote customer loyalty. These codes work best when tailored to your specific business and customer base.
Here are some modern, real-life uses of successful QR code campaigns:
African American History Month, Featured at the Wrather Museum
This museum created a QR campaign to help the modern generation connect with the past through their smartphones. In the Wrather's 'Picturing America' series exhibit, QR codes were imbedded near key art pieces. Guests could scan these codes and receive additional information on the history of the artwork itself, its symbolic meaning, and facts about the artist who created it.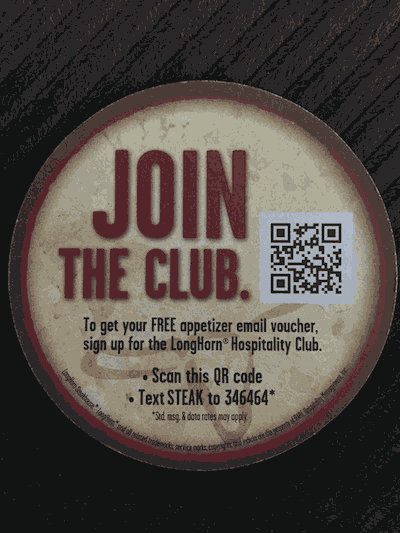 The LongHorn Steakhouse Encourages Customer Loyalty With Real Value
The LongHorn Steakhouse franchise recently tested out an exciting new QR marketing campaign. Drink coasters in the restaurant sported QR codes that, when scanned, gave customers an opportunity to join LongHorn's loyalty program.
If they signed up, they were thanked with a free appetizer with their regular meal. This was a smart marketing move that built customer goodwill and made it more likely that future messages from the company would be read and responded to positively.
Spotify Brings Mixtapes to the Modern, Tech-Savvy Generation
Spotify released to the marketplace a popular app allowing people to send a customized greeting card to the special person of their choice. The lucky recipient can scan the QR code printed on the card and enjoy a playlist of the giver's favorite tunes. This app bridges the warmth and charm of an old-fashioned greeting card and the fun, relaxed creativity of a customized mixtape.
Tesco Brings the Store to Their Customers' Phones
Large retail stores such as Tesco are helping busy commuters stay on top of their groceries and after-work errands. These stores have QR codes imbedded in billboards and other advertising that is located near public transportation hubs such as subway stations and bus stops. While the customer waits for their train, they can scan the QR code and access the store's website. From there, they can order groceries and other items which will be bagged and ready to be picked up or, for a small fee, be delivered directly to their home. Customers love the convenience of this marketing campaign and find it to be a real time saver.
Columbia Sportswear Takes Care of Customers and the Environment
Columbia Sportswear showed their commitment to reducing the environmental impact of their shipping practices by creating a marketing campaign that featured QR codes on reused and recycled packaging. Customers could scan the QR code, track where this box had traveled to, and build a unique story for it through comments and photos. This quirky use of QR codes helped bring nation-wide attention to the company as eco-savvy shoppers flocked to the stores to participate in the program.
Launching a QR Code Marketing Campaign
If marketers and brands become more strategic with their use of QR codes and the content they put behind them, everyone has the potential to benefit. Afterall, it wasn't the technology of the QR codes that created the stigma, but rather it's misuse. If you're thinking of incorporating QR codes in your marketing strategy consider consulting with a QR code expert to help optimize your campaign for success.