Mobile apps have become powerful tools for brands who want to build deeper relationships with their customers. A mobile app can serve many purposes, including: complimenting the offline experience, driving sales, or simply connecting with loyal customers. Whether you're in the conceptual stages of building a mobile app or preparing to launch the finished product, the success of your app will likely depend on the mobile app marketing strategies you use to promote it. While there's no silver bullet to get your audience to download your app, these tactics will ensure you hit the ground running when you're trying to get more visibility.
Optimize for the App Store
App store optimization (ASO) is, at it's core, search engine optimization (SEO) for the Google Play and App Store. ASO relies on links, keywords, title, description, popularity and reviews. These factors have a huge impact on whether or not your app will get discovered among app store search engines. Thus, ASO is incredibly important when you're trying to get the word out.
Apps are often discovered outside the app store. According to Google, 1 in 4 app users discover an app through search. Search is a driver of app discovery. Let's say your app is related to travel; Google the term "best travel android apps" and see what results you get. Make your app discoverable everywhere, especially search engines.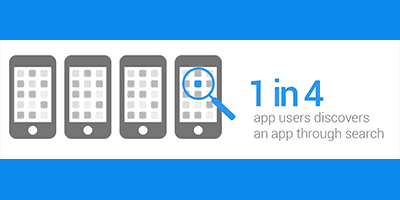 Source: Google/Ipsos, Mobile App Marketing Insights: How Consumers Really Find and Use Your Apps (U.S.), May 2015.
Don't Forget About the UX
While the overall look and feel of your app won't have a direct impact on visibility, it will certainly have an impact on usability and engagement. As you can see from this example from Google Play, screenshots are one of the first things that people see when they find your app in an app store search. Do more than take a screenshot of your app and drop it in the app store. Show off your app's best features and add captions and other visual elements to turn a seemingly boring task into a must-have feature. You only have a few seconds to make an impression, so put your most important screenshot first and get them hooked on your app as quickly as possible.
Share Your Mobile App on a Variety Channels
Social Media: With millions of users, Facebook is one of the best social media channels to promote your app. Start by setting up a Facebook page specifically for your app. Be sure to include detail on the page, similar to what would be found in the App Store. Facebook is a great place to earn credibility, create a buzz or get feedback about your app. A Facebook page is a great way to engage in conversation with users, acknowledge mistakes and surprise users with new features.
Website: You need to promote your app everywhere and using your existing website to promote the app only makes sense. We recommend creating a specific landing page that's laser focused on promoting downloads of your app.Be sure not to redirect users from your domain name to the app store. When a user types in your website, they expect just that, a website. Automatically redirecting users to the app store creates a bad user experience, as it is not the behavior a user is expecting.
Emails: This includes your customer service emails, order confirmation emails and any other email communications you send.Emails still have their charm provided they're used under the right circumstances. According to a study by Exact Target, "91% people check their email daily". Make your app part of your email communications.
App Directories / Lists: There are a variety of app directories you can list your app. Some are free and some are paid. We found 100 places to market your app here.
Pitch Your App
Don't be afraid to pitch your app to different outlets. This can be quite time consuming but the payoff could be worth it in the right outlet. The goal of pitching the app is to create more buzz and visibility overall.
Review Sites: When pitching a review site, find reviewers who have written about similar apps.Review site scan generate a lot of buzz for your app if they mention it.
Technology/Industry Bloggers: Bloggers don't want a list of features, they want to know how your app is going to make user's life easier and solve the challenges they face. Bloggers and reviewers are there for their readers, not for you. Give them a reason to cover your product.
Awards: Participate in different competitions or nominate your app for an award. Even if you don't win there are several benefits like: exposure, feedback and credibility, which is always good for your app marketing.
Recruit Beta Testers: Put out a call for beta testers. These testers can easily become your app's biggest supporters and word-of-mouth marketers. In some cases, the allure of a closed beta can draw even more excitement around your app and build interest in those who, until this point, have been out of reach.
Integrate with Social Media:
By integrating social media platforms in your app, you can enable in-app social sharing. For example, a Venue's app could display an integrated Facebook feed to update users on new events and interact with other participants without ever leaving the app. Doing this is not only convenient but it makes the app home base for communication, avoiding the loss of traffic to native social networking apps. Thus, promoting adoption of the app.
QR Codes:
QR codes are a great way to advertise your mobile app. You can add QR codes to your website, business card, brochures, receipts, or storefront window. Zapper, a mobile payments provider for restaurants, uses this method. A QR Code is generated on every bill of participating restaurants and the customer can pay using the Zapper app.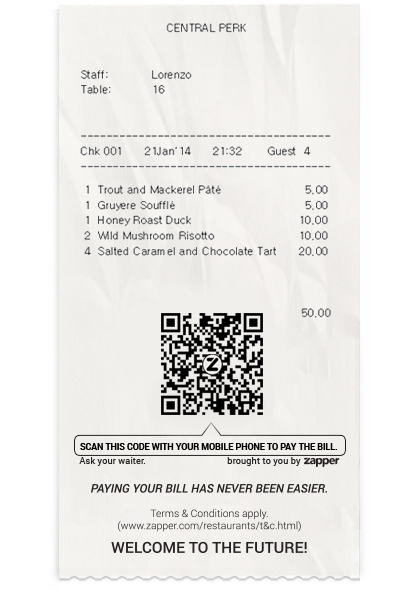 (Image Source: Zapper)
Reward Mobile App Users
If you really want your app to take off, then reward users. You can use a lot of different methods for motivating users to refer the app to their friends, relatives or colleagues. This is not only a great way to increase your app downloads, but your app referral scheme can help you to monitor your user experience and track how more downloads is being generated.
Every brand has a different marketing budget and will have a different strategy for promoting their app. The important thing is to figure out which strategy works best to generate buzz and get people to download your app. Getting people to discover your app is one of the fundamental challenges every marketer has.